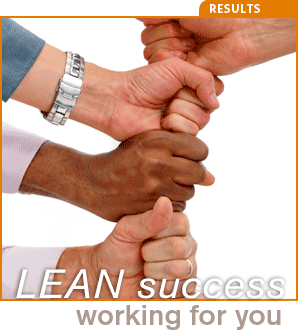 "Pall Medical's success in implementing lean was rooted in how Mike engaged us, from senior leadership to the shop floor. He was effective at a strategic level (in helping us define a plan) as well as at a tactical level (in facilitating our actual transformation) as he led us from conveyor assembly lines to cell-based work flow. Mike's practical approach focused on adapting the lean philosophy and tools to our unique environment."
Miguel Casabosch
Plant Manager, Pall Corporation
"It was our great pleasure to have worked with Mike Osterling to implement a Lean Manufacturing system during 2005 and 2006. The ideology introduced by Mike has had a profound and lasting impact on nearly every aspect of our operations, and I can say without a doubt that his work is the greatest single investment I have ever made in my company. Mike's knowledge, professionalism, interpersonal skills and determination produced results that far exceeded my expectations. Based on the changes and results Mike has produced for us, I have all the confidence in the world that he will surely be able to do the same for any business."


Nate Mullen
President, Unique Lighting Systems, Inc.
Osterling Consulting Services: create and transform
Results
From the shop floor to the front office, and into the field, we consistently guide teams through the improvement process achieving quick and high-impact results. By first assuring alignment of our clients' vision, resources, skills, incentives and action plan, we can then focus on execution, resulting in positive improvements in:
Quality of Services and Products – We impact right first time in the field, first pass yield on the shop floor, and "percent complete and accurate" for office and administrative processes.
Productivity and Effectiveness – Identification and reduction of unnecessary work and motion.
Customer Service Levels and Response Times – Fewer delays, less reworking and less work in process.
Workplace Safety – Decreased risk exposure, and better designed work places.
Employee Morale – Engaging workers in the improvement process recognizes their knowledge, experience, and creativity.
Results our clients have experienced include:
Sales Order to Invoicing (administrative processes only)
| | | | |
| --- | --- | --- | --- |
| Metric | Before | After | Improvement |
| Pre-production lead time | 4.3 hours | .5 hours | 88% |
| Process (touch) time per order | 44 minutes | 34 minutes | 23% |
| Document travel distance | 1525 ft. | 861 ft. | 44% |
| Number of process steps | 22 | 13 | 41% |
Purchase Order to Order Launch (Configure to order products)
| | | | |
| --- | --- | --- | --- |
| Metric | Before | After | Improvement |
| Lead time | 17 days | 6 days | 65% |
| Process (touch) time per order | 345 minutes | 266 minutes | 23% |
New Hire Requisition Process
| | | | |
| --- | --- | --- | --- |
| Metric | Before | After | Improvement |
| Lead Time | 77 days | 36 days | 53% |
Cost Estimating Process
| | | | |
| --- | --- | --- | --- |
| Metric | Before | After | Improvement |
| Lead Time | 40 days | 15 days | 63% |
| Estimate Accuracy | ±25% | ±10% | 60% |
| Number of process steps | 14 | 11 | 21% |
Order Amendment Process
| | | | |
| --- | --- | --- | --- |
| Metric | Before | After | Improvement |
| Lead time | 32.6 days | 17.9 days | 45% |
| Process (touch) time per order | 1285 minutes | 618 minutes | 52% |
| Number of process steps | 61 | 21 | 66% |
Electrical Products – Conversion to One-piece Flow Cell
| | | | |
| --- | --- | --- | --- |
| Metric | Before | After | Improvement |
| Productivity (people required) | 25 | 17 | 32% |
| First pass yield (acceptance rate) | 98.7% | 99.4% | 54% |
| Work in Process | 257 | 54 | 79% |
| Floor space required | 2392 sq ft | 837 sq ft | 65% |
Production of Medical Devices - Extrusion and Assembly
| | | | |
| --- | --- | --- | --- |
| Metric | Before | After | Improvement |
| Operators | 17 | 10 | 41% |
| Travel distance | 3277 feet | 80 feet | 98% |
| Lead time | 38.7 days | 20.1 days | 48% |
| Work in Process Inventory | $16,000 | $8400 | 47% |
| Space | 720 Sq Ft | 374 Sq Ft | 48% |
Changeover Time on Molding Machine
| | | | |
| --- | --- | --- | --- |
| Metric | Before | After | Improvement |
| Changeover time | 213 minutes | 26 minutes | 88% |
| Batch size | 20,000 units | 6000 | 70% |
Processing of Non-conforming Materials Documentation
| | | | |
| --- | --- | --- | --- |
| Metric | Before | After | Improvement |
| Lead time | 17 days | 9 days | 47% |
| Process (touch) time per occurrence | 74 minutes | 16 minutes | 78% |
Assemble-to-Order Production Line
| | | | |
| --- | --- | --- | --- |
| Metric | Before | After | Improvement |
| Product flow distance | 685 ft | 310 ft | 55% |
| Floor space required | 24,544 sq ft | 16,295 sq ft | 34% |
| Work in Process Inventory | 50 units | 16 units | 68% |
Other improvements realized include:
Production documentation creation: lead time reduction from 115 days to 56 days (51% reduction)
Material kitting: Walk distance reduction from 110 meters to 15 meters (86% reduction)
Cycle counting: Reduced mismatched counts from 48% to 24% (50% improvement)